Peer Health Coaching
Peer Health Coaching helps a client identify ways to improve their own health and well being and provides short term coaching and support.  Peer health coaches work with a person on a specific health related goal over 10-18 sessions.  Coaching activities promote successful outcomes through motivational interviewing and attention to strengths,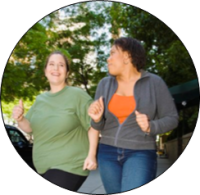 needs and goals.
Receiving Peer Health Coaching to work through obstacles, identify support and information and provide motivation has helped participants to achieve their health goals.  Clients feel more able to manage their health and have more confidence in maintaining healthy lifestyle changes after Peer Health Coaching.
To download an information sheet, please click here.
For access and referral information, please click here.