Intentional Peer Support Training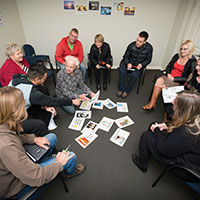 Comcare's Peer Support Service provides regular training in Intentional Peer Support (IPS) for individuals and organisations. The training, which takes 30 hours (generally run over 6 weeks), is valuable to people currently working or considering peer support roles or as a self-development opportunity. Peer supervision is also available, either in groups or individually.
Our Peer Support services are based on the Intentional Peer Support principles:
Intentional, purposeful relationships that assist us step outside our current story.
Encourages us to understand and re-evaluate how and why each of us learn to make sense of our experiences, and then use the relationship to create new ways of seeing, thinking and doing. It doesn't start with the assumption of 'a problem'.
Focuses on developing two-way relationships that enable both parties to learn and grow, rather than a 'helper' needing to 'help' another. We are all 'experts' on ourselves.
Sees each other as people first, rather than through the lens of an illness based on psychiatric models or diagnosis.
Creates relationships that are tools for looking at how we've learned to operate in the world. Where we can explore our own interpersonal patterns and we can support and challenge each other to try new ways of thinking.
Promotes a 'trauma-informed' way of relating so instead of focussing on 'what's wrong' we ask 'what happened?'
Encourages us to move towards what and where we want to be rather than focussing on what we need to stop or avoid doing.
For information and registration, please contact us.