Community Housing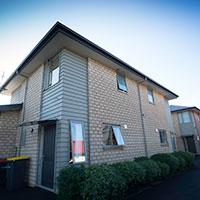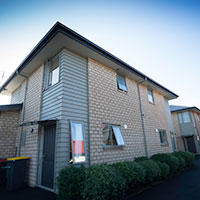 Comcare is a specialist registered Community Housing Provider (CHP) through the Community Housing Regulatory Authority, which is part of the New Zealand Government's Ministry of Business, Innovation and Employment (MBIE).
From small beginnings, the organisation is now a large regional provider of social housing.   Comcare specialises in housing single people, either in group situations in 2, 3 or 4 bedroomed homes, or in single bedroom flats in small complexes situated around the city.   Comcare owns a large property portfolio and leases a number of other houses and flats to complete its available housing stock.
Comcare has embarked on a building programme in partnership with the Social Housing Unit of MBIE and The Canterbury Community Trust. The focus of this programme is single person flats, all with private courtyards, well insulated and pleasingly decorated.   Others enabling Comcare to undertake the development are Westpac Bank and Supporting Families New Zealand.
Comcare's housing is run by a professional team of tenancy and property management staff with tenant welfare at the heart of its operations, providing safe and secure social housing throughout Christchurch.
Comcare's Social Housing is available to people over 18 with mental illness or addiction issues who have high housing need in Christchurch and would benefit from a specialist housing provider.
Application is open to Comcare Housing Services client pool, Specialist Mental Health Services, Mental Health residential providers or addiction treatment providers and The Ministry of Social Development.